Sewing, Embroidery & Quilting Machines plus much more
To explore the range of machines. accessories and products from our brands, simply click on logos below.
Get ready for a fun Black Friday here at River City Sewing.  If you are in the market for a new...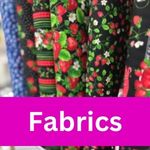 River City Sewing Creative Hub
Our Creative Hub is a growing resource of information, videos, classes and more that we have developed to bring you the best quality information available on the products that we provide here at River City Sewing
Registration is free, so why not sign up today and take advantage of all the resources on offer.